SCP GUARANTEES HIGH HEAT EFFICIENCY AND CLEAN EMISSIONS


The system combines innovative distribution of the primary combustion air and that of post-combustion.
The air for primary combustion is introduced into the firebox and is uniformly distributed onto the arms open conduit. The maximum possible oxygenation and power necessary for optimal combustion are obtained in this way.

The air for post-combustion is withdrawn from the environment through holed in the base of the fireplace. It is heated by flowing through two dedicated ducts and the rear of the firebox. It is introduced from the roof of the firebox via a drip system with large "pattern", in order to obtain the mixture with the combustion products at a high temperature.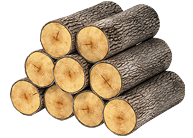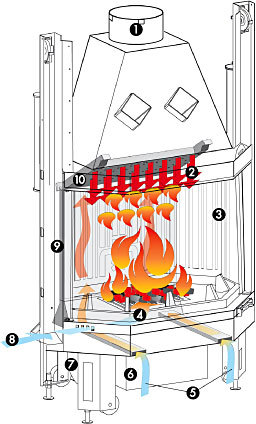 1) Combustion product outlet vent

2) S.C.P. system in the firebox roof
3) Firebox covered entirely in thick cast iron

4) Primary combustion air inlet

5) Post-combustion air inlet

6) Forced ventilation system

7) Vent connected to the external air intake

8) Room air inlet

9) Vertical sliding door in ceramic glass heat shock proof 800°C

10) Post-combustion air outlet holes
SCP is included on wood burning stoves, wood inserts and wood fireplaces (check based on the individual models).