USEFUL SUGGESTIONS REGARDING INSTALLATION
The output of combustion products from the fireplaces is circular. It is envisioned to allow the use of stainless steel pipes form the Edilkamin range (rigid single-wall or insulated rigid double-wall).
If the flue inlet is not vertical to the fireplace, the fitting between the fireplace and the flue must not have constrictions or inclinations exceeding 45°.

For flues that are not new or too big, piping is recommended via stainless steel pipes with suitable diameter and insulation.


For flues positioned externally, the use of those in stainless steel with insulated double wall is recommended.
The constructive features, in particular regarding mechanical resistance, insulation and gas proofing must be suitable and support a combustion product temperature of at least 450°C. Also consider the indications of the UNI 10683/98 Standard.
Connection to wall on flue already existing in vertical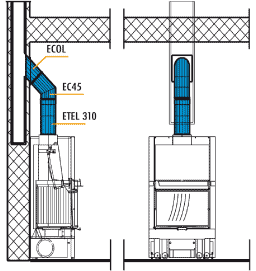 Connection to wall on flue already existing that is out of alignment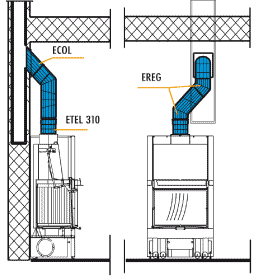 Connection to ceiling on flue already existing in vertical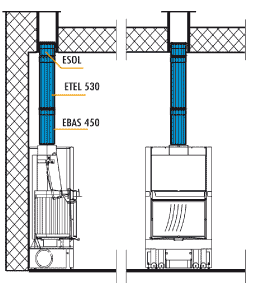 Connection to ceiling on flue already existing that is out of alignment